Introducing Clusters for Smarter Email
With BlueMail new capability, your clutter turns into Clusters!
We are very excited to introduce smart email clusters for BlueMail today, another big step towards a clutter free inbox. BlueMail categorizes emails into smart clusters for known automated services. Here is an example of how all your emails from MLB go into a single smart cluster: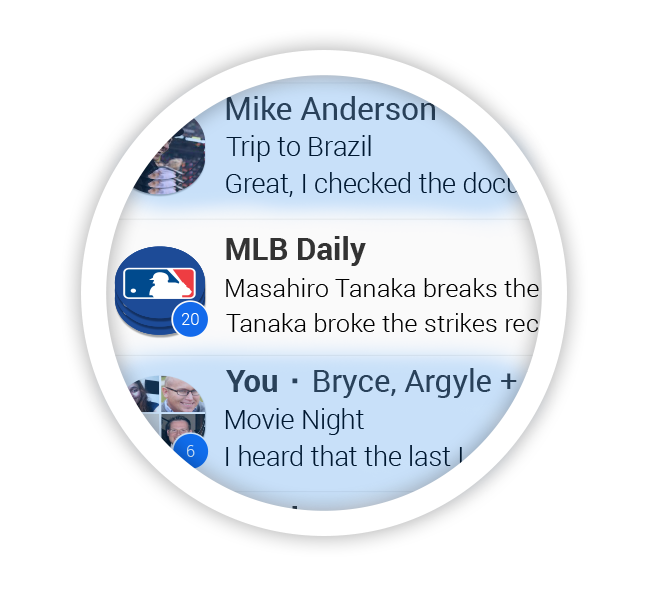 Chances are your inbox is exploding, especially if you have multiple accounts and lots of subscriptions to newsletters. It becomes challenging to find the important emails in between. Some of us delete or archive emails, some scroll down quickly and others open every single email. We are bound to receive dozens of machine generated emails from services on a daily basis, which are mostly informative. They range from a new exciting announcement of a smartwatch, dull monthly balance of your bank account or files being added by your colleagues to a cloud drive. To be able to focus on what is really important, we need a smarter way to aggregate the information and act on what actually matters.
BlueMail's Clusters bring a new way to organize your emails:
Grouping – Clusters group a tremendous amount of similar emails and therefore removes a lot of clutter from your inbox, without actually hiding any of them
Folder-Like – Each smart cluster in a way, organizes your emails into a sub-folder structure automatically, without the need and hassle for you to manage it manually
Multi Action – You have the ability to take action on a group of emails at once, making it easy to take bulk actions efficiently, such as Mark the entire Cluster as read at once
No Hidden Emails – Any email that comes into a cluster also acts as a reminder for the previous emails you might have missed, so as soon as a new email is received from that service, the email cluster pops up to the top of your inbox and you never miss this tweet or that Groupon deal
Visually Appealing – In alignment with BlueMail's spirit, it naturally joins the gorgeous and evolving user experience to make email fit today's fast pace. It's easy to spot an email cluster by its visual avatar and this is an important addition to our growing service offering
Some email providers tried to clean the inbox with tabs of social, promotions, forums, updates or others; while the inbox may seem cleaner, important emails are being lost, sometimes forever or irrelevant by the time you look at them. If we wanted a service to stop sending an email, we could simply unsubscribe from the notifications. If someone just added you on LinkedIn and offered you the dream job, do you really want to miss that alert? If you received a message from a friend on Facebook, is that a social email? It makes the email from Facebook redundant in a way. What if there is a new Groupon deal in your area, only valid for today? Automatically hiding the emails from the inbox does not seem like an optimal solution.
So should you go over tabs three times a day? And if you do – what's the point – again you have to deal with an abundance of emails from a certain provider cluttering your view in those tabs.
We hope you love the new BlueMail clustering as much as we loved doing it! We'll keep improve and enrich them with many great new ways.