Clusters by BlueMail
The Power of Clusters
We are very proud about the recent introduction of the great new Cluster concept we've launched that takes email messaging to the next level. We would like to take a moment to highlight some of the main features and functions of BlueMail's Clusters.
By tapping "Clusters" from the picker, Clusters instantly spring into action, and elegantly brings together People, Groups, and Services – creating a simple and easy to use interface. Your mailbox automatically becomes way more organized and alive with stacked avatars that appear to the left of each email.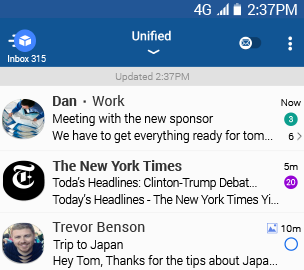 When Clusters are enabled, emails are stacked in conjunction with all previous emails from the same sender or group. Apart from cleaning your inbox clutter, this creates a new context-based view where you can easily see all previous communications exchanged and navigate your inbox much faster!
There is a reason we all use email in the first place to our convenience. Email keeps context which brings a lot of clarity to our messaging experience, and this is a big advantage over Text Messaging which doesn't provide enough context in a chat-like environment. Instead, typical Text Messaging services create multiple discussions in the same chat view sometimes at the same moment that are quite hard to follow and of course search later on, whereas, email conversations are related to topics and context.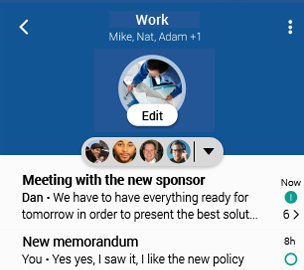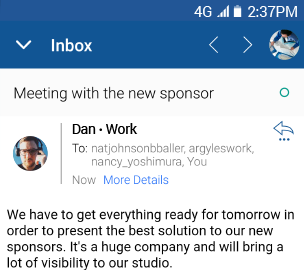 For instance, while exchanging emails with a contact of yours, BlueMail's Clusters remain as intuitive and convenient as before and just as you were accustomed to using it. Tapping on the left avatar in the main tab will lead you to all emails and conversations you previously held with that contact. You can also set that photo on the left for groups and services to make them stand-out.
To view the emails within the cluster, simply tap the circle avatar photo on the left of a specific email or use the People Tab. From here you will be able to see all of the relevant emails elegantly grouped together in an easy to navigate view. To get quickly to the most recent email in the cluster, just tap on the preview of that email.
Communicating within a group or with a person becomes easier than ever before with Clusters as conversations are now brought together in the same group making them easier to follow up and respond to.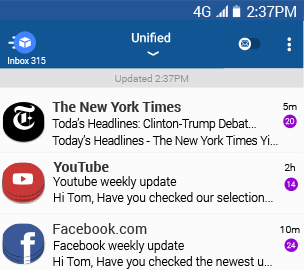 Services such as newsletters, coupons, alerts etc. while not always relevant while you are busy, can quickly clutter your inbox. Clusters organize each of the known services to make finding the most important emails quicker allowing you read them when you have the appropriate time.
Enjoy the Power of Clusters by BlueMail!