People Switch: People-Centric Email
Redefining Mobile Email by Bringing People Together
Email is all about communication and bringing people together. We are thrilled to introduce People Switch for BlueMail today.
People Switch is an innovative way of conjoining emails from the same senders together, let it be individuals, shared groups or clustered services.
Individual People – 1:1 conversations with people you regularly communicate with.
Groups – Shared groups to allow fast and smart group communication.
Service Clusters – Automated emails from machines, services and newsletter accessible for you.
For each person, group or service, BlueMail clusters its emails to a single entry, making your new mailbox very slim and tidy. Each cluster holds multiple conversations of sent and received emails.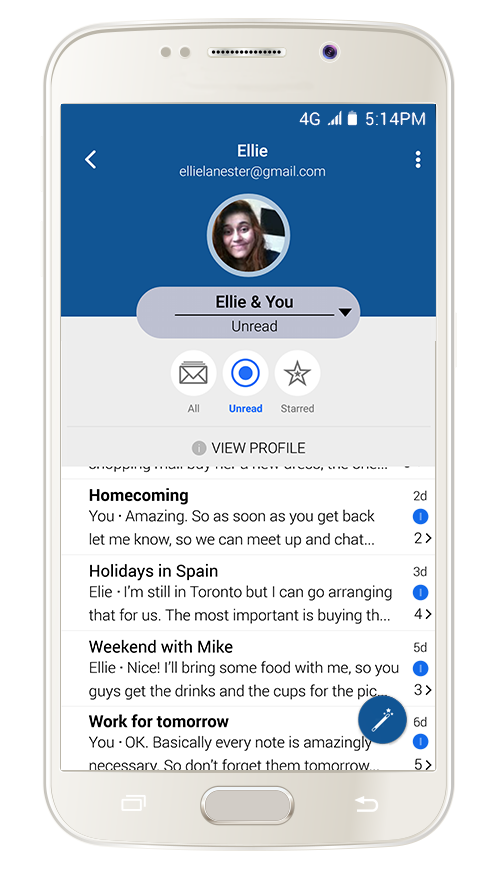 Group by Sender
We've created BlueMail to be a mobile email service from the outset, with the mission to make the best email experience ever created for mobile. Our focus is on making email intuitive, easy to use and efficient to our users. We've already targeted machine generated emails with our unique service clusters and created shared groups for conversations with multiple contacts. We are now offering a seamless solution to allow a group by sender, fitting nicely into our design. You can track multiple threads of conversations with dozens of emails all organized for you in a compact form in your People Switch.
BlueMail is continuing to rebuild the Mobile Email space by making it simple yet powerful with a special emphasis on user experience that users love.
People View by BlueMail – Redefining mobile email by putting people at the center of your mailbox.