BlueMail – An Excellent Alternative Mail App to Outlook
BlueMail is an excellent alternative for any mail app, including Outlook. With millions of users actively using the BlueMail mail app and above 700,000 users who have collectively given us a 4.5 rating on the PlayStore, we are thrilled at the outpouring of love and support and are continuously improving the best mail app ever made for a mobile device.
While most mail apps focus on simply sending and receiving mails and in doing so provide few relevant features, here at BlueMail we strive to offer the perfect mailing environment filled with rich features and customizations that enable you to truly manage your email accounts and calendar more productively and efficiently while enjoying the process along the way.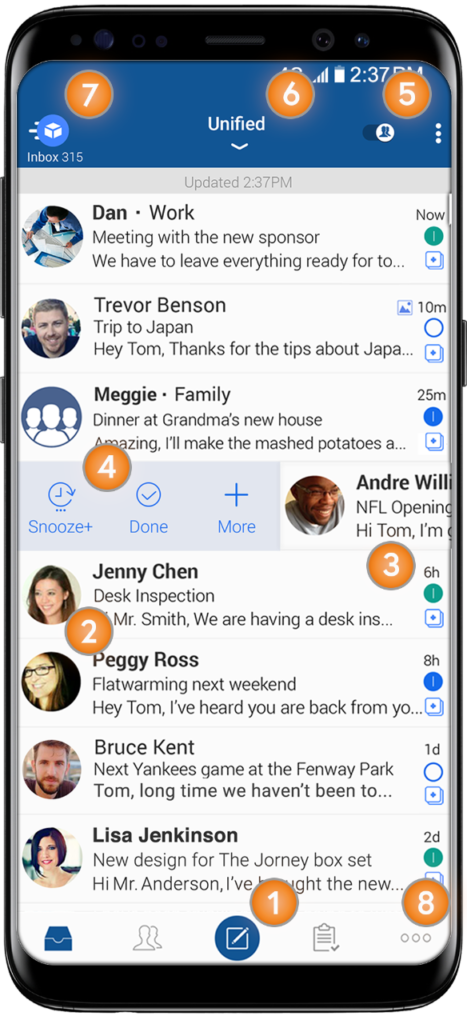 The Perfect Mailing Environment for a Mail App
The perfect mailing environment starts from the moment you add your account on BlueMail. It's as easy as 123 since BlueMail supports almost all mail providers and every protocol (IMAP, POP3 , Exchange). After adding your account, you'll see the Mail List View, which displays all your mails per folder. To Compose an email simply tap the Compose icon (1) at the bottom center of the list and begin writing. Use our Rich Text feature to add some color to your mails and end your mail with a stylish customized Signature.
Getting back to the Mail List, on the left side (2) you'll notice the Avatars of the senders in your list and on the right (3) you will see a Read/Unread indication according to your Account Color. Simply swipe a mail right or left to reveal the Swipe Actions (4) such as Snooze, Delete, Archive, Read/Unread, amongst others.
At the top right of the Mail List (5) you'll see the People Toggle, where you can conveniently toggle your Mail List View between displaying mail from Only People and mail from All (newsletters and services included).
A little over to the left, at the top center of the Mail List (6) lies the Account Picker where you can easily add an account, switch between accounts, choose Filters (such as Unread/Starred) for the Mail List, enable Clusters (groups your mails by sender/service), and switch to Dark Mode.
At the top left of the Mail List (7) you'll see the Account Drawer, where you can view your Unified Folders, navigate other folders within accounts, and access your Calendar.
Way down on the bottom right of the Mail List (8) are the More (o o o) options, where you'll find even more features and customizations such as Notifications, Groups, Lock Screen, Backup/Sync, and more!
What about Security?
BlueMail takes great strides to ensure that your email accounts are completely secure using multiple industry leading encryption and security standards in addition to various Privacy and Security features built right into the app.
BlueMail uses TLS/SSL encryption standards and OAuth authorization protocols that protect your private information and keep your accounts on BlueMail safe.
So Should I Make the Switch to the BlueMail Mail App?
Absolutely! Of course the choice is yours at the end of the day but at least now you understand why millions have already joined the BlueMail family and haven't turned back. Try us out for a few days and see for yourself 😃.
Sounds great! How do I start?
Happy to have you on board!
Android Users – Download BlueMail from the PlayStore
iOS Users – Download BlueMail from the AppStore
Windows Users – Download BlueMail from the Microsoft Store
MacOS Users – Download BlueMail from the Mac App Store
Linux Users – Download BlueMail from the Snap Store
Cheers and happy mailing!